Kuvings Whole Slow Juicer
Since more than 35 years NUC Electronics stands for ongoing innovation in well-being products. Take advantage of this to improve your life quality.
Slow Juicers in general smoothly squeeze vegetables and fruits to minimize the nutrient loss.
The unique Kuvings Whole Slow Juicer now allows you to slow juice even whole fruits and minimize oxidation and preserve nutritions.
Special Features:
Quiet operation
The Kuvings Whole Slow Juicer's operation noise level causes a calm and relaxed atmosphere while enjoying your fresh juice.
Fresh and easy juicing by the wide feeding chute
The unique feeding chute of the Kuvings Whole Slow juicer is 5 times wider than the ones of conventional blenders.
This simplifies the juicing process, it enables you to juice whole vegetables and fruits without cutting them.
Minimized nutrients loss and freshness
Kuvings Whole Slow Juicer produces pure juices that are rich in nutrition since the juicing of whole vegetables and fruits minimizes oxidation and loss of nutrients which happen in the destruction of cellular walls.
Optimized yield of juice and reduced Pulp
Thanks to the gentle squeezing technique of Kuvings Whole Slow juicer (J.M.C.S) you get a higher yield of juice.
Enhanced functionalities for a variety of natural desserts
"Smoothie & Blank Strainer" are additional accessories that you can use to create various natural, delicious desserts.
Become a Kuvings Reseller now!
Innovative Technology:
Low-Speed Masticating Technology (Patented in 50 countries)

J.M.C.S (Juicer Module Comprising System) is a unique technology of Kuvings, specially designed to gently squeeze fruits and get a natural and pure juice.
High Performance AC Induction Motor

The 240W high performance motor is strong enough to juice even harder vegetables with the proper preparation by still running silently.
As the AC induction motor is manufactured in-house, a consistent quality is ensured.
Tritan™ (Juicing Drum)

Tritan™ is an eco-friendly material that is used for the Kuvings Whole Slow Juicer Juicing Drum.
It is approved by Europe's NSF, USA' FDA and Japan's Health Department as environmentally safe BPA-Free material for use in food containers.
Ultem (Screw and Strainer)

The durable and eco-friendly material Ultem is used for medical equipment and in NASA's space shuttles. As we offer only the best quality to our customers, also the strainer and screw of the Kuvings Whole Slow Juicer are manufactured of this superior material.
Safe Operation


An important point is: the Kuvings Whole Slow Juicer is developed for safe operation. Due to the built-in fail safe it will only operate when it is fully and properly assembled.
A long-term operation is made possible by three optimal placed heat-vents and an automatic heat control system, that will switch off the juicer before overheating.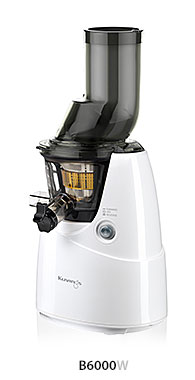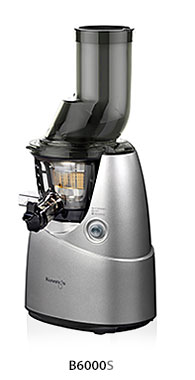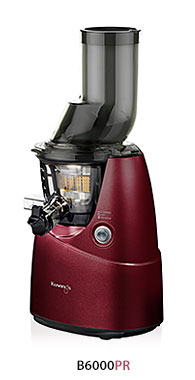 Technical Details:
Type:

Masticating Juicer

Speed:

Low Speed 60rpm Extraction

Wattage:

240W

Voltage:

AC220-240V, 50/60 Hz

Dimensions:

228 x 208 x 448 (mm)

Weight:

Net Weight 6.4 kg

Capacity:

400ml

Maximum Use:

Up to 30 min.

Materials:

Ultem, Tritan, ABS, PC

Certificates:
Become a Kuvings Reseller now!